MEET THE PEOPLE
STEVAN PASERO
Stevan Pasero is recognized worldwide as one of the more influential and versatile guitarists of the past decade. He has released 30 recordings, transcribed 30 major symphonic works, produced over 500 recordings for other artists and has composed well over 1000 pieces for solo, duo and various ensembles. He is one of a few musicians to record in several music idioms successfully, bridging both classical, jazz and world music markets. His music is found in over 70 countries worldwide. Fans and critics say that Stevan Pasero is one of the music world's best kept secrets, even though his CDs have sold millions around the globe. He is Principal and Founder of several music companies: Sugo Music (www.sugomusic.com), Granada Studios (state-of-the-art 24 bit, 64 track recording facility), Solea Group (www.soleagroup.com), NEN Music (publisher with 100 original and arranged works) and PaseroMusicGroup (a full service performance/production company). In addition to his own projects, Mr. Pasero is in high demand as a Producer. He has produced 1000 CDs for various artists worldwide including Michael Ludwig (Associate Concertmaster of the Philadelphia Symphony), Oleta Adams and most recently, was Executive Producer for the new National Geographic 20 CD music series.
Back to top
RUSSELL BOND
For over 25 years, Russell Bond has set the industry standard for crafting audio recordings. As a recording, mixing and mastering engineer, he has raised the benchmark for which most engineers still strive toward. His meticulous work with Todd Rungren, George Winston, Michael Hedges, Alex DeGrassi and Liz Story, as well as guitarist Stevan Pasero, has placed him in the upper echelon of engineers and producers in North America.
Russell began his recording career at Soper Sound from 1973-76 and then continued at Music Annex in Menlo Park, CA from 1976-94. It was at Music Annex that he further established his career by working with various labels, producers and musicians on the West Coast. In 1994-98 he founded Digital Audio Productions in Saratoga, CA, an important beta site for DigiDesign products and was the first to record CDs using early ProTools technology. Currently he is Senior Engineer at Granada Studios.
Back to top
CHRISTOPHER BOCK
Christopher's first performance experience began at age 5 playing drums with his parent's jazz trio. Over the next twenty years he accompanied several jazz greats such as Chick Corea, Stan Kenton, Cal Tjader and more. He also studied composition at several Universities (UCSC, SJS, etc.) under such luminaries as David Cope, Randy Masters and others.
The introduction of the drum machine created an intriguing dilemma of either learning everything about these new machines or becoming a bartender…he chose the former. This led to his involvement in the development of several new musical technologies with key manufacturers including EMU systems.
After owning and operating his own production and recording studios for several years, he decided to focus on product development with a new company called Digidesign. Over the last ten years, Christopher has helped lead Digidesign to become the de-facto standard in the recording industry as well as post-production audio for TV and film, winning a Grammy for Technical Achievement in 2000. Today Mr. Bock runs World Wide Sales and Marketing for Digidesign…and enjoys terrorizing his 4 year old twin daughters and drinking absinthe at Joe's in Prague.
Back to top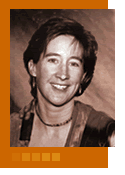 JULIA HARRELL
Julia received her Masters in Music from the University of North Texas and her Bachelors Degree in Music from Appalachian State University. She has studied marimba with virtuoso Leigh Howard Stevens and drum set with jazz legend Ed Soph. As a teaching fellow on marimba, Julia also pursued every ethnic percussion class available, including gamelans, steel drums and African ensembles. The majority of Julia's professional career has been playing jazz drum set and classical percussion in orchestras.
Back to top
Return to "About Us"